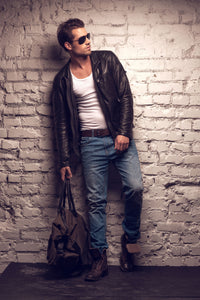 Up Your Style with the Luxe Look of Leather Accessories
It's not easy to make leather – especially high-quality leather. It's a long process that can't be rushed. Maybe that's why leather accessories, leather goods and leather furniture are so often associated with luxury. 
Here at Balance Headwear, we happen to think that leather accessories can – and should! – also be associated with bandanas to create a luxe look that will show the world you're the kind of person who isn't interested in following trends. You do things your own way – and it looks good.    
Leather Jewelry 
From our Boho Leather Earrings with Red Agate Stone to our stunning leather bracelets and cuffs, our Cappadocia Collection of distinctive leather jewelry is made with features such as hand-stitching, fine vegetan leather and exquisite natural stones.  
Handmade Leather Belts 
We offer beautiful handmade belts crafted with vegetan leather, including our brown 38-inch leather belt in rich brown with stud details and our adadjustable leather belt, a dark brown belt that can be adjusted to fit medium to large sizes. 
Leather Face Masks for Bikers 
All of our biker leather face masks are handstitched, painted by hand and expertly made to comfortably follow the curves and contours of your face. These stunning face coverings are truly works of art crafted by a husband and wife team of highly skilled artisans, who have spent much of their lives immersed in the beauty and culture of Turkey. You may not know it, but Turkey is rich in handcrafts and master craftsmen, many working in small workshops or from their homes. Available in a stunning array of designs, each biker mask features adjustable straps. 
Leather Motorcycle Bags and Seats 
All of our hand-stitched motorcycle bags are made from strong, high-quality cowhide leather that has been tanned using a natural vegetable-based process rather than harsh chemicals. Each individual design is hand-painted by highly skilled Turkish artisans. From steampunk to skulls, our distinctive leather postman shoulder bags always make an impression. 
So, if you thought Balance Headwear was all about cool bandanas, think again! And, if the biker in your life has a birthday coming up, remember that our gorgeous leather accessories make fabulous gifts.
---