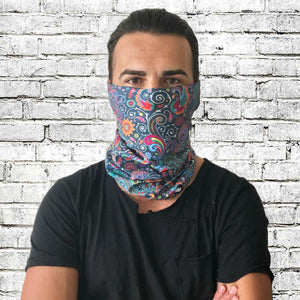 Neck Gaiter Face Mask Head Scarves Headband Bandana Hair Scarf Headwear Gift Face Shield
Classic Tube Bandanas have been a favourite for years as multifuctional face and headwear.
Made of 100% microfibre, their stretch capility makes it possible to use them as face masks, neck gaiters, neckwarmers, headbands, beanies, to name just a few,  and they offer comforting protection from UV rays and winds.  Not only have they become a fashion accessory for sport enthusiasts, bikers  and anglers alike,but have become a must for anyone working  outside for any length of time.
Over the last month however the pure simplicity of the tube bandana has made it indispensable in the fight against Covid 19.  During his 3rd April press briefing President Trump announced that the Center for Diesease Control and Prevention were recommending the use of non medical face coverings for all US Citizens while outside of their homes.   With all medical grade face masks set aside for Health Workers, the general public scrambled to find an alternative.  While some handcrafters searched online how to make a facemask, a large proportion of the population realised that using a bandana as a mask would be a perfect solution.  With their myriad of colors and designs, and soft flexible nature, photos of tube bandana wearing instagramers soon filled social media, setting  an unprecedented example .
Although the effects of the present pandemic will be felt by everyone for many months to come, heres hoping that once life returns to a relative normal  those newly introduced to the multifunctional beauty of seamless tube bandanas will continue to use  them for more pleasant passtimes.  Heres to the times when we get back on our boats, and bikes,  hike up mountains and catch that big one that always got away!
In the meantime stay safe and stay home and follow the rules…just for once;)
---