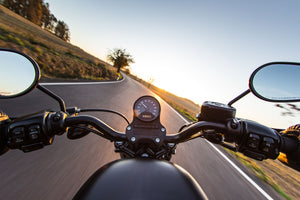 Get Out Your Best Bandanas and Get Ready to Rally
Get out your favorite motorcycle bandanas and leather face masks and get ready to hit the road. It's August and that means that it's time for the Sturgis Motorcyle Rally. This year the rally will be held August 2 through 11 in the Black Hills of South Dakota.
According to the official Sturgis Motorcycle Rally timeline, the very first Sturgis Rally was held in 1938. It was known as the Black Hills Classic at that time and was held on August 14th. Only nine participants and a handful of spectators turned out for the race.
Here are some other historic highlights from the official timeline:
1942: Due to gas rationing in support of the war efforts the Rally did not take place from 1939-1941. 1942 was the return year of the Sturgis Motorcycle Rally.
1949: For the 1st time, Sturgis Main Street is blocked off for a 2 hour awards ceremony.
1961: The Jackpine Gypsies introduce the Hill Climb and Motocross races.
1964: One block of Main Street is officially closed for motorcycle parking over the course of the 3 day event.
1965: The Rally moves to a 5 day event.
1974: The first temporary vendor set up in the Sturgis Auditorium.
1975: The Rally evolves to its present 7 day event.
1983: City Park is closed to camping due to fire outbreaks.
2000: The Sturgis Rally saw the largest attendance exceeding as high as 600,000 people.
2015: The City of Sturgis is proud to have celebrated the 75th annual event with a record attendance of an amazing 750,000+ participants spanning over a 10 day period.
If you're heading to Sturgis with those cool bandanas and leather accessories you got from Balance Headwear this year, be sure to take a picture and post it on our Facebook page! Can't get away this year? Check out our selection of flag, camouflage and colored bandanas as well as neck gaiters and motorcycle bags. 
---