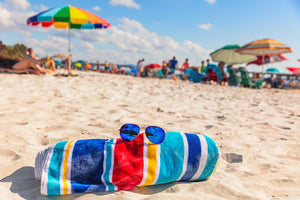 Cool Bandanas You'll Love to Own
Depending on where you live, it may not be quite time to pack the warm-weather gear away. That doesn't mean the changing of the seasons isn't a great reason to treat yourself to a cool, new bandana from Balance Headwear.  Who knows, maybe you're lucky enough to live somewhere where you never need to pack the warm-weather gear away (hi there, Florida!). 
Whether you're anticipating an Indian summer or an endless summer, you'll be looking and feeling great with the Coolmax Active line of bandanas from Balance Headwear. 
Balance Coolmax Active Bandanas
Our Balance Headwear Coolmax bandanas are made with a fine 100% polyester-fiber performance fabric that's made using Coolmax technology. That means the fabric is:
Moisture absorbent

Quick drying and 

Breathable 
It's ideal if you're looking for lightweight thermal performance gear that offers extreme protection and maximum absorbency. Our Coolmax line of bandanas will also keep you cool, dry and comfortable longer. Coolmax Active Bandanas from Balance Headwear aren't as warm and cozy as the fleece bandanas in our Polar Collection, but they are still a good choice if you're thinking about an early morning run on a brisk fall day because of their thermal properties.  
Of course, even if you live someplace warm and sunny like Florida or Arizona, that doesn't mean you don't enjoy heading somewhere farther north to chill from time to time. We know you really feel the cold because you're not used to it. So, if you're planning a ski trip or family visit this winter, be sure to check out the full collection of Balance Headwear Polar Bandanas.  You'll enjoy the warmth and comfort of fleece without sacrificing the style you've come to expect from our all of our cool bandanas (get it?!).
And, when you buy a
camouflage motorcycle bandana
or a brightly
colored triangle bandana
from Balance
Headwear
, you can buy with confidence, knowing that each bandana that bears our name is made with quality materials and with care. Browse all of our
collections
to find
bandanas for sale
that fit your needs and your style.
---